In October 1966, tragedy struck the Welsh mining village of Aberfan.
Around 9-15 am after several days of heavy rain, a mountain of colliery spoil tip, [loose rock & mining spoil waste} broke up & slid at high speed down to the school at the base of the man made mountain, killing 116 children & 28 adults
Although warnings  had been voiced in 1963, by local authorities, of the potential hazards, these were ignored, possibly due to the high costs of making these man made mountains safe for the village below.
Naturaly there were denials of blame from the National Coal Board, who eventially accepted full responsibility.
From about 1910 the waste deposits from mining, had been dumped on the Mynidd Merthyr, above the village.Over the years millions of cubic metres of excavated mining debris had accumulated.
The Coal Board chairman, Lord Robens. initially made misleading statements regarding the disaster.Robens told a TV reporter the disaster could not have been averted, as it was due to unknown water springs beneath the tip, although these springs were clearly marked on maps
From humble beginings,leaving school at 15, his  career took off when he was made director at the age of 22 of the Manchester & Salford Co-operative Society,he was also a union official and later an elected Labour Member of Parliament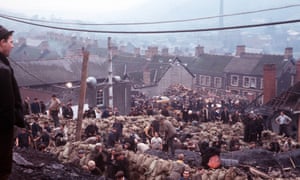 This morning the BBC showed excerts from a show remembering this tragic disaster, but the newscaster reported  it simply as a mining disaster, ommiting the true facts